Social lock for Joomla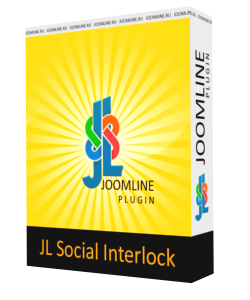 You may say, I have already seen this somewhere. Sure you have, however, the difference is now we can provide you with a guaranteed "like", as opposed to similar products. What does it mean? We use the 'Share' button and test if there has been a "like" pressed while all the competitive products analogues would either just test if the social network window has been closed, or use the "like" button which does not necessarily place a link on a social network to your web page.
At the moment, we offer a plugin operable with 6 main social networks: Vkontakte, Twitter, Facebook.
Support component Joomla: K2, Zoo, JoomShopping, Virtuemart, Easyblog.
Note: 'curl' is required for this plugin operation.
JL Social Interlock plugin features
Compatibility with Joomla 2.5.
Guaranteed link placement on a social network. Unless the link has not been placed the hidden content will not be visible.
Customized with a help of tag. You may select a section in your Joomla content and lock it with the Socilal Interlock.
Customized with a help of category. All the content belonging with the category specified will be locked with a Social Interlock.
Support K2.
Support ZOO.
Support JoomShopping.
Support Virtuemart.
Support Easyblog.
Count of the "like" quantity.
Protection against ban for "count cheating" on social networks.
Language support: Russian, English.
Customized color of the block.
Customized text in the block.
Customized social network count display.
100% customizable outlook.
Support issues of social networks: Vkontakte, Facebook, Twitter.
In the tag, launch the plugin can be specified URL.
The option to show only the lock is not authorized users.
Special snippet that allows to deduce social castle anywhere in the site on Joomla.
FAQ
To customize with the help of tags please use the following format:
{jllikelock} your text {/jllikelock}
or
{jllikelock url=http://site.ru}text{/jllikelock}