Description JL VK Group
Popular module for integration of Vkontakte group. The module allows you to display members from groups and communities of Vkontakte popular social network.
Module enables the user to subscribe to your group, community or public pages news in one click without leaving your web site. This allows you to attract more visitors to your web site into a social group.
At the moment, the module uses all the functionality and features available with Vkontakte social network.
The package includes:
Version for Joomla 1.5 is not supported
Features JL VKgroup
Joomla 3 and Joomla 4.
You may specify the width.
Specify the block height.
Multiple operation modes (users photo, short mode without photo, latest group news display).
Simple and extended wall mode.
Vkontakte group module displays information from the groups, public pages, and other community pages of Vkontakte.
Ability to change the color of the widget: background, text, buttons group.
Ability to hide the links posted in the module.
Support multi-module.
Setting JL VK Group
After installing the module, you must configure it. To do this, specify the ID of your group, you can get the address of your group, it looks like this: http://vkontakte.ru/club17291036
Look at the numbers at the end of reference 17291036 - this is a group ID, which you need to enter into the module.
If your group is renamed, is as follows: http://vkontakte.ru/joomline
You should follow this link
Insert a link to the group in the form as shown in the picture.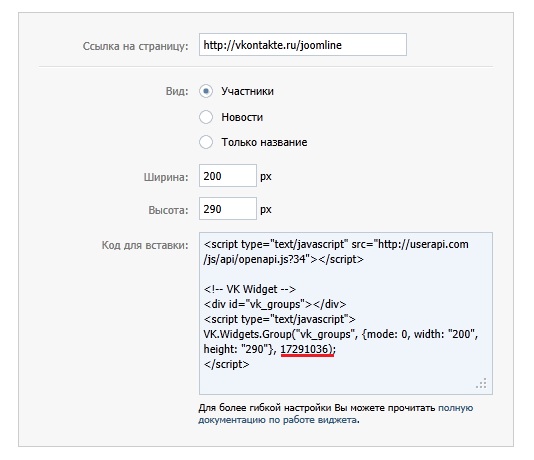 Red underline id group that you want to insert the module.