There is a plugin for Vkontakte popular social network comments.
The package includes:
Plugin JL VKcomments
Module Vkontakte Latest Comments
Each comment posted via widget will be automatically transferred to the comment contributor page, and also is posted in the News section at their Friends pages. The comment always has a link to the original article. As a result, the comment and article is communicated to the contributor friends, and they can join the discussion. Their comments, in turn, will be communicated to the friends of their friends, and so on. Later, the news concerning the article topic can spread like an avalanche, making a resonant response.
Vkontakte Widget provides an option to reply to comments, with the answers being concurrently communicated both to the article page, and that of the comment contributor, as well as in the friends News section. Automatic synchronization of comment responses causes your article subject to be concurrently discussed at several platforms, with each arresting the attention of new users to the original article.
Web site administrator with the widget code installed, has an option to moderate the discussion directly from the pages of his resource deleting the unwanted comments. It is equally important for the administrator to designate any number of additional moderators to provide the appropriate order via user-friendly interface.
All comments are available to their friends and have a link to the initial article.
Each comment becomes the Vkontakte user status and provides a link to your resource. Not only does the comment show in the News sections of the user's friends, it also shows in the status search of Vkontakte. Thanks to the partnership between Vkontakte and Yandex these statuses will be indexed for a month in Yandex search on a real time basis which will contribute to hit rating of the web sites with the widget installed.
Version for Joomla 1.5 is not supported
Features JL VKcomments
Works with Joomla 1.5, Joomla 1.6, Joomla 1.7 in Native mode.
Does not require user authentication; Vkontakte social network login is sufficient to comment the articles.
Easy installation with all settings required.
Setting JL VKcomments
For correct operation of the plug needed for setting APIid it must be registered in the social network vkontakte.ru and be authorized.
See here on the site this form.
Issue: the site name, site address.
Click on Save.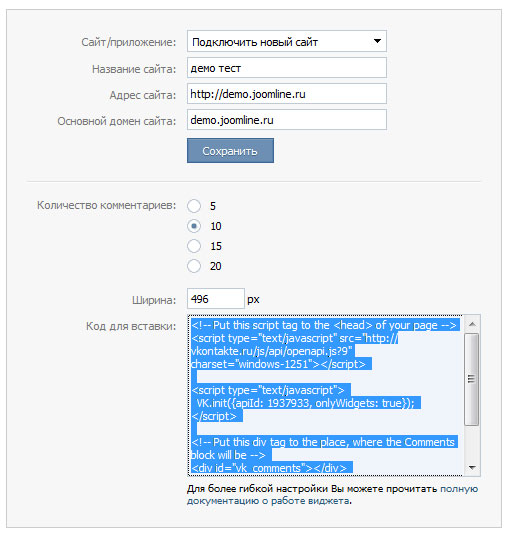 After saving now see the following picture:
Number that you are interested in the screenshot is outlined in red. Enter it in the appropriate field, the plugin settings. And your website is ready for operation.