Description JL Comments
JL Comments plugin is a solution designed to integrate comments from social networks into your web site. Allows you to display social comments from Google+, Facebook, Vkontakte, JComments.

We have solved the problem of social comments integration by displaying social network widgets for social networking into tabs with the help of js framework jquery which reduced the plugin size and gave tabs a nice and modern look. Almost 90% of users can leave comments on your web site using their existing accounts in social networks (no authentication at your web site needed). Besides, you will get a new traffic inflow as your users comments will be visible for the friends and acquaintances.
The package includes:
Version for Joomla 1.5 is not supported
Features JL Comments
Full compatibility with Joomla 3.
Full compatibility with Joomla 2.5.
JS jquery framework.
Full support for integration with comment system JComments.
An option to disable and rearrange the tabs.
Using com_content.
Problem of comments loss solved by page duplication.
Correct link definition from social networks.
Tiny size.
Plugin easy installation and setup.
Language selection option.
Language localization files (Russian, English).
Option to disable JS libraries and CSS styles.
Support for social networks: Google+, Facebook, Vkontakte.
Counters comments on the tabs.
A complete set of widgets comments Vkontakte.
A complete set of comments widget Facebook.
Possibility of hiding links from the plugin.
The possibility of administration for the widget comments Google+.
For correct operation of the plug needed for setting APIid it must be registered in the social network vkontakte.ru and be authorized.
See on the site
Issue: the site name, site address.
Click on Save.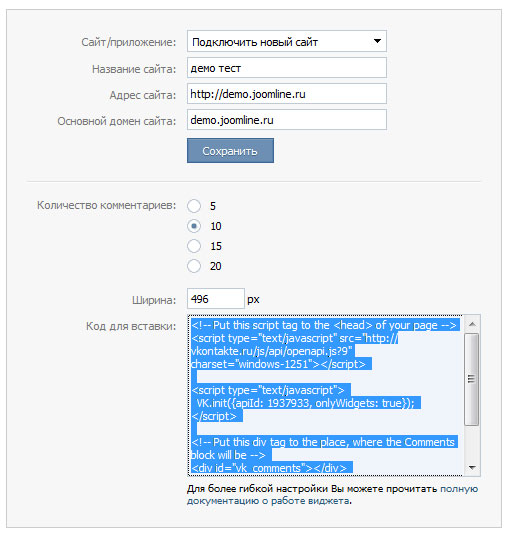 After saving now see the following picture:
Number that you are interested in the screenshot is outlined in red. Enter it in the appropriate field, the plugin settings. And your website is ready for operation.