Module JoomLine mp3 player free
Version
1.5
Terms of distribution
Free
Compatible
The package installation

m
Description
Description JL Mp3 player free
The free version of the popular mp3 player module which counts more than 100 000 installations to web sites in the world.
The package includes:
Features
Features JL Mp3 player
Compatibility with Joomla 2.5/1.5
Full support for UTF-8.
Reading of ID3v1 and ID3v2 tags from mp3 files.
Native support for html5 (playing without Flash plugin).
"Easy mode" is a setting, when activated, reduces the player to a single button. When you click on it a full function player window pops up starting playback of the playlist.
Random playback.
Image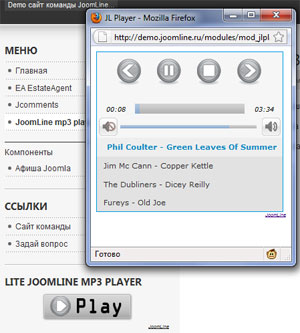 Setting
Setting JL mp3 player
To create "music" directory in a site root.
To copy mp3 files in "music" directory through FTP the manager.
Version History
Version History
v1.5
Porting to Joomla 2.5.
Actualization of language variables.
Russification of the administrative part.
v1.4.2
Fixed incorrect reading of tags in some cases.
v1.4.1
Some fixes for IE. Thanks to Roger.
v1.4
Added random playback.
Player settings are stored in cookies.
Fixed layout for IE.
v1.3.5
The new system of skins for the player.
New skin
Bug fix in the module.
v1.3.2
v1.3.1
Fixed encoding. Now the ID3 tags in Chinese (utf-8) are read correctly.
Added ID3v1 tag support.
By popular demand - if the artist (singer) was not found in the tags is not written in the title Unknown artist.
v1.2.9
Added possibility to change the style of the player from a website template by adding a module class suffix.
v1.2.8
Correction of errors found in the module.
v1.2.5
In the module added Russian and English language file.
v1.2
New Player Features: Easy mode
---
Terms of Service | Help in development