Description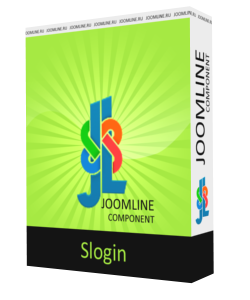 Description Slogin
Social Login, social network authentication component allows to login to Joomla web site via following social networks: Vkontakte, Ulogin, Twitter, FaceBook, LinkedIn, Live.com, Odnoklassniki, Yandex, Google, and Mail.ru.
Complete set comprises:
Integral Social authentication component package
Social Login, Joomla social authentication component.
Authentication module.
Account management plugin.
Social profiles plugin.
Social networks authentication plugins for: Vkontakte, Ulogin, Twitter, FaceBook, LinkedIn, Live.com, Odnoklassniki, Yandex, Google, and Mail.ru
Comments integration plugin JComments. (link to developer web site)
Integration plugin for Community Builder. (link to developer web site)
Integration plugin for Easyblog.
Note: Component support is a paid service.
Features
Features Slogin
Joomla support 3.0.
Joomla support 2.5.
Services support: Vkontakte, Ulogin, Twitter, FaceBook, LinkedIn, Live.com, Odnoklassniki, Yandex, Google, and Mail.ru.
To bind an existing account with a social network.
To unbind the social network accounts.
Aggregation of the accounts for the authenticated users.
Profile fill-in after first authentication.
Changing the social networks buttons appearance.
No extra or intermediate services during authentication procedure.
Support for SEF Joomla.
Integration support for com_user, Community Builder, and EasyBlog.
Avatars support social networks Vkontakte, Facebook, Mail.ru, Odnoklassniki, Twitter, Google+.
Localization: Russian, English, Ukrainian.
Special thanks to
Shustry, who really longed for this extension and managed to talk us into its development. Later, he was the one to draw graphics for the extention.
SmokerMan, who developed component and module framework and handed it to us.
JoomLine, we tweaked the framework and added some ideas.
Arkady, who accomplished its development literally 'in a gulp', contributed lots of new ideas and improvements; if it were not him, social authentication would have not emerged for long time.
Version History
Version History
v1.7.3.3
Fixes for English language localization module variables authorization.
v1.7.3
Fixing problems with the cache Joomla.
Changing the language variables.
Fixing problems related to Joomla 3.2.
The new layout module authorization Slogin.
Added options to the module Slogin.
v1.7.2
Ulogin authorization support.
Bugfix.
v1.7.1
User removing bug fix for Joomla 3.
v1.7
Social profiles plugin is added.
Profile pictures plugin is removed.
Language parameters are added.
Hyperlink is added to Slogin module.
Hyperlink is allowed to be hidden in Slogin module.
Authentication plugins bugs are fixed.
Bug fix for Joomla 3.
Plugin for Jcomments is updated.
Accounts merging bug fixing.
v1.6.3
Authentication library is added.
Conflict with Twitter is fixed.
v1.6.2
Bugfix.
Twitter v1.1 API supporting is added.
Profile pictures plugin is added (Vkontakte, Facebook, Mail.ru, Odnoklassniki, Twitter). Thanks to artlux for the plugin.
Profile pictures are available at the JComments component comments level .
JComments needed.
Profile pictures are added to the authentication module.
Authentication links indexation is closed in order to avoid duplicates.
v1.6.1
Bug fixing
Jcomments Integration plugin is updated.
v1.6
Bug fixing.
Module loader is updated using JS.
Authentication through Live.com service plugin is added.
Pictures sprite is updated.
Authentication stage is updated in order to to reduce duplicates.
Slogin users managing is added.
Language parameters are added.
Email validation is added.
User is allowed to add new data during social network registration.
Auto-naming algorithm is updated to take emails into account.
v1.5
Authentication popups standard sizes are defined.
Authentication bugs are fixed.
Accounts assigning page is modified in order to avoid authentication errors and SEF problems.
Server for updates is added.
Accounts assigning page is modified (registration rejecting buttons and new redirects are added(
JS and CSS disabling options are added.
Spanish localization is added. Thanks to Marcelo Canina
Auto-generated emails are unique now.
PHP 5.4 compatibility.
Slogin tables clearing is added (non-existent/all users removing).
Special symbols in users' logins problem is fixed.
Test version for sites with caching. Slogin excluding from cashed components list.
Correct redirect processing when user rejects social networks authorization.
v1.4
UI modifications.
Social networks authorization plugins are completely enabled.
LinkedIn authorization support.
User accounts are unassigned from social networks.
CSS classes for buttons are updated to avoid conflicts.
Authorization component router is added. Thanks to smart.
Single installation package.
Bug fixing.
Code optimization.
JComments comments integration plugin is added.
v1.3.2
Twitter authorization is optimized.
Social networks integrations are supported.
Donate information is added to component.
Authorization module body is uploaded after page loading.
v1.3.1
Non-existent view bug fixing.
Social networks data set is extended.
Module is updated (redirects are fixed).
User Management plugin is updated.
v1.3
Bug fixing (minor errors for Joomla 2.5/3.0).
Social networks will be unavailable if their authorization profiles aren't populated.
Community Builder and Easyblog integrations are added.
English and Ukrainian localizations are added. Thanks to joomlaforum user GDV.
External plugins are allowed to be integrated.
v1.2.1
Odnoklassniki bug is fixed.
Bug fixing.
v1.2.1
User authorization and registration bug fixing.
Joomla 3.0 is supported.
Accounts management plugin is added to clear tables after user removing.
v1.2
Bug fixing for v1.0.
Social networks assigning is improved.
Email is requested to be assigned to existing account.
New ability to merge authorized users accounts on special page.
Icons are updated. Thanks to Shustry.
2 base icon templates are added (big and medium buttons).
v1.0
Base social authentication functionality for Joomla 2.5 is implemented.
Commercial add-ons
Integration with JoomShopping: 9.99 USD.
This plugin displays social authentication during the order placement procedure, it also makes it possible to take the user details from a social network for order form fill-in procedure. This feature greatly improves the store conversion, it also simplifies the registration procedure for your users (this being the most troublesome step during the product purchase). Store conversion rate Increase may amount to as much as 30%-50%.
K2 - Slogin integration: 8 USD.
Plug-in of integration of SLogin and K2. Appropriates to the new user group к2, specified in plug-in settings.
Slogin integration - Community Builder: 8 USD
JomSocial - Slogin integration: 8 USD